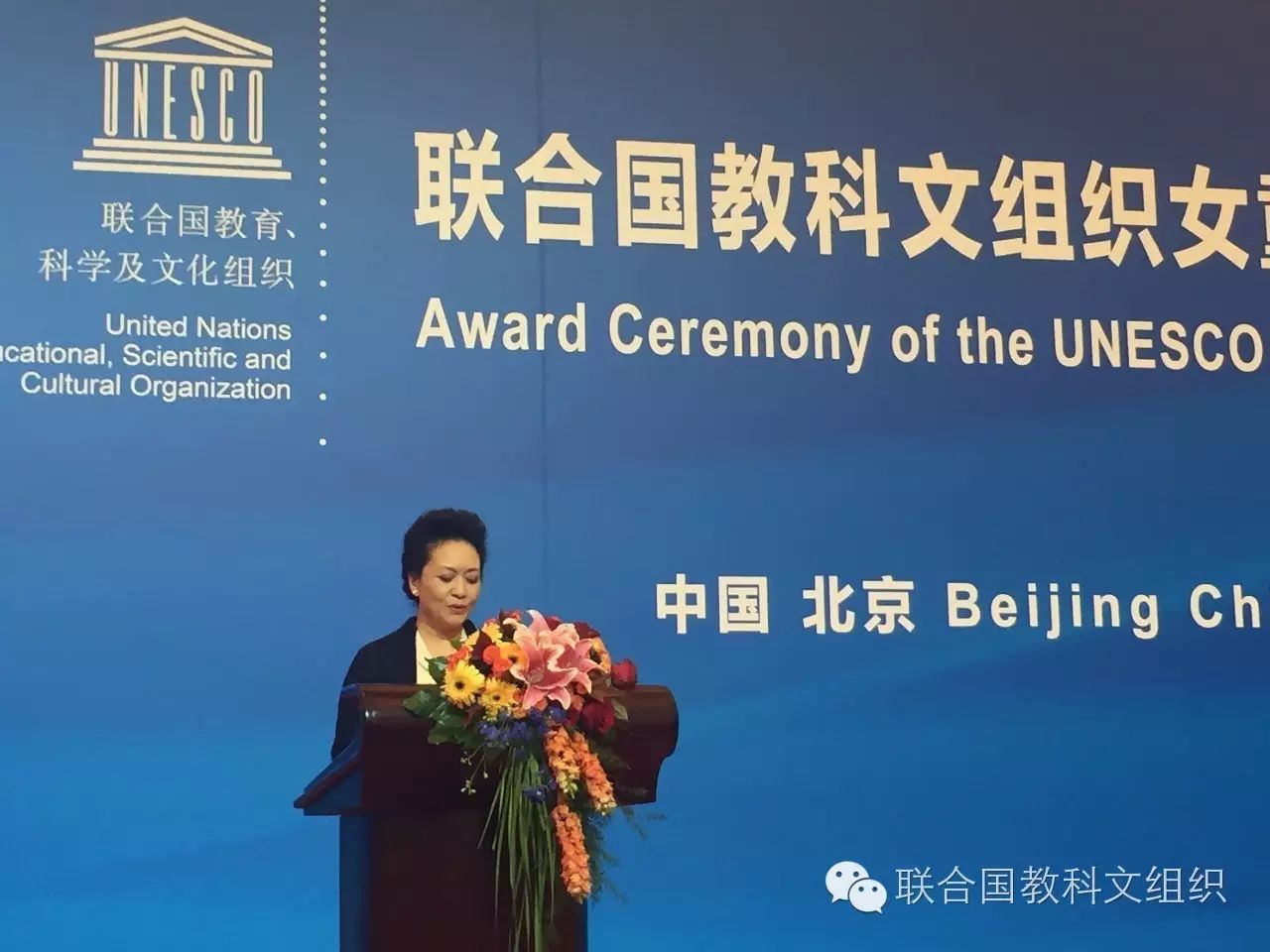 On the afternoon of 6 June 2016, the laureates of the first UNESCO Prize for Girls' and Women's Education were received in the Great Hall of the People by Mme. Irina Bokova, Director-General of UNESCO and, Mme. Peng Liyuan, the First Lady of China and the UNESCO Special Envoy for the Advancement of Girls' and Women's Education, among over 300 participants including the attendees of International Seminar on Girls' and Women's Education, the diplomatic missions and school students. Mme. Peng Liyuan congratulated the laureates for their achievements made in advancing girls' and women's education in their countries. Supported by the Government of the People's Republic of China, the Prize is conferred annually to two laureates and consists of an award of USD 50,000 each to further their work in the area of girls' and women's education.
2016年6月6日下午,、,共同参加活动的有国际女童和妇女教育研修班学员、有关国家驻华使节和国际组织驻华代表以及北京院校学生代表等300多人。。,每年在全球范围内挑选两个获奖名额。获奖者可获得五万美元奖金用以继续推动其在女童和妇女教育领域的工作。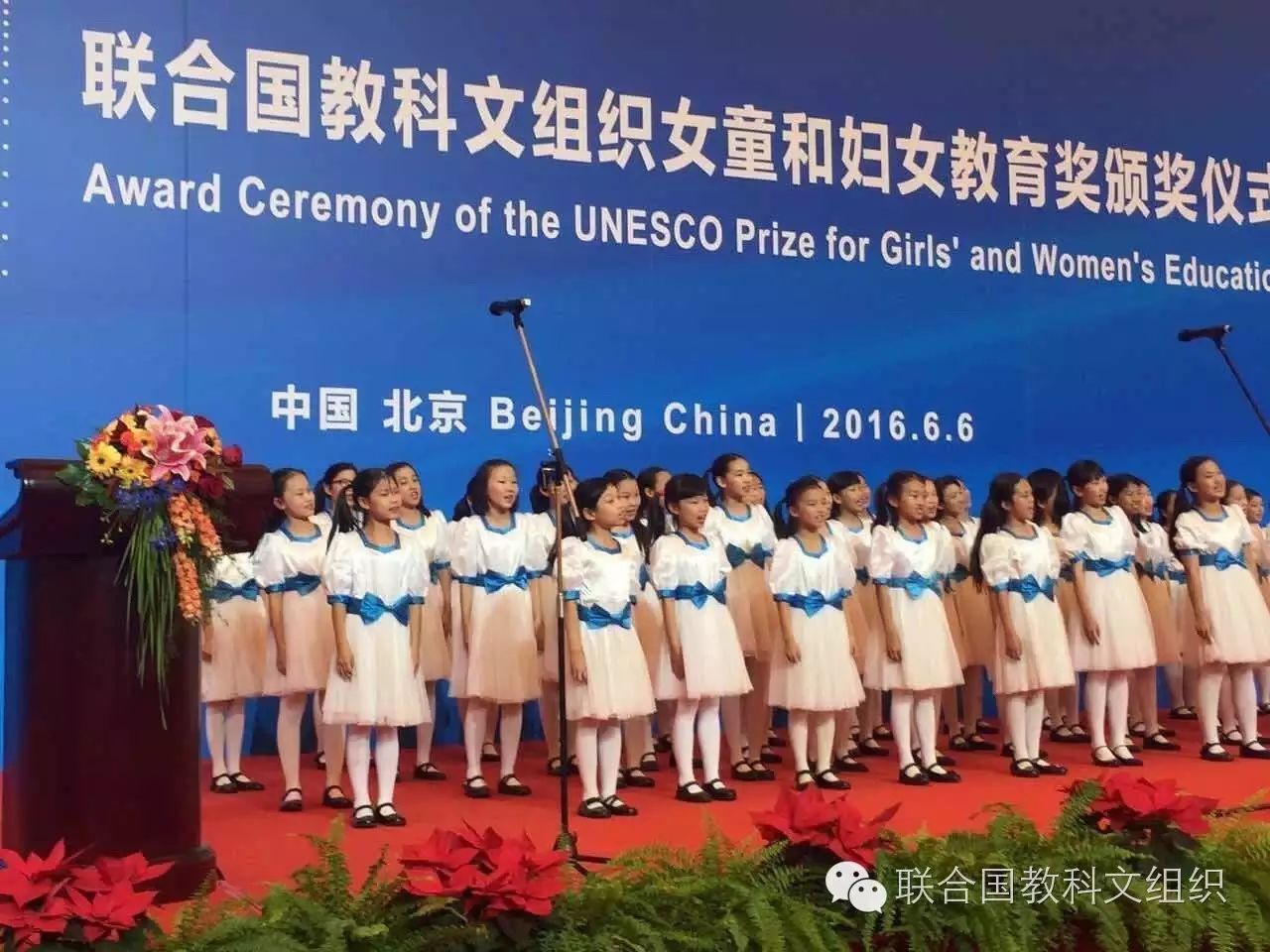 UNESCO Beijing Office took interview of the two laureates of the first Prize. Now let us see what their innovation and contributions made for the empowerment of the girls and women in Zimbabwe and Indonesia and what the changes they believe that the Prize will bring to their countries.
联合国教科文组织驻华代表处采访了这一奖项的两位首届获奖者。让我们共同聆听,她们在推进津巴布韦和印度尼西亚的女童和妇女教育方面有哪些创新和贡献?以及这一奖金将给她们的工作带来哪些进展呢?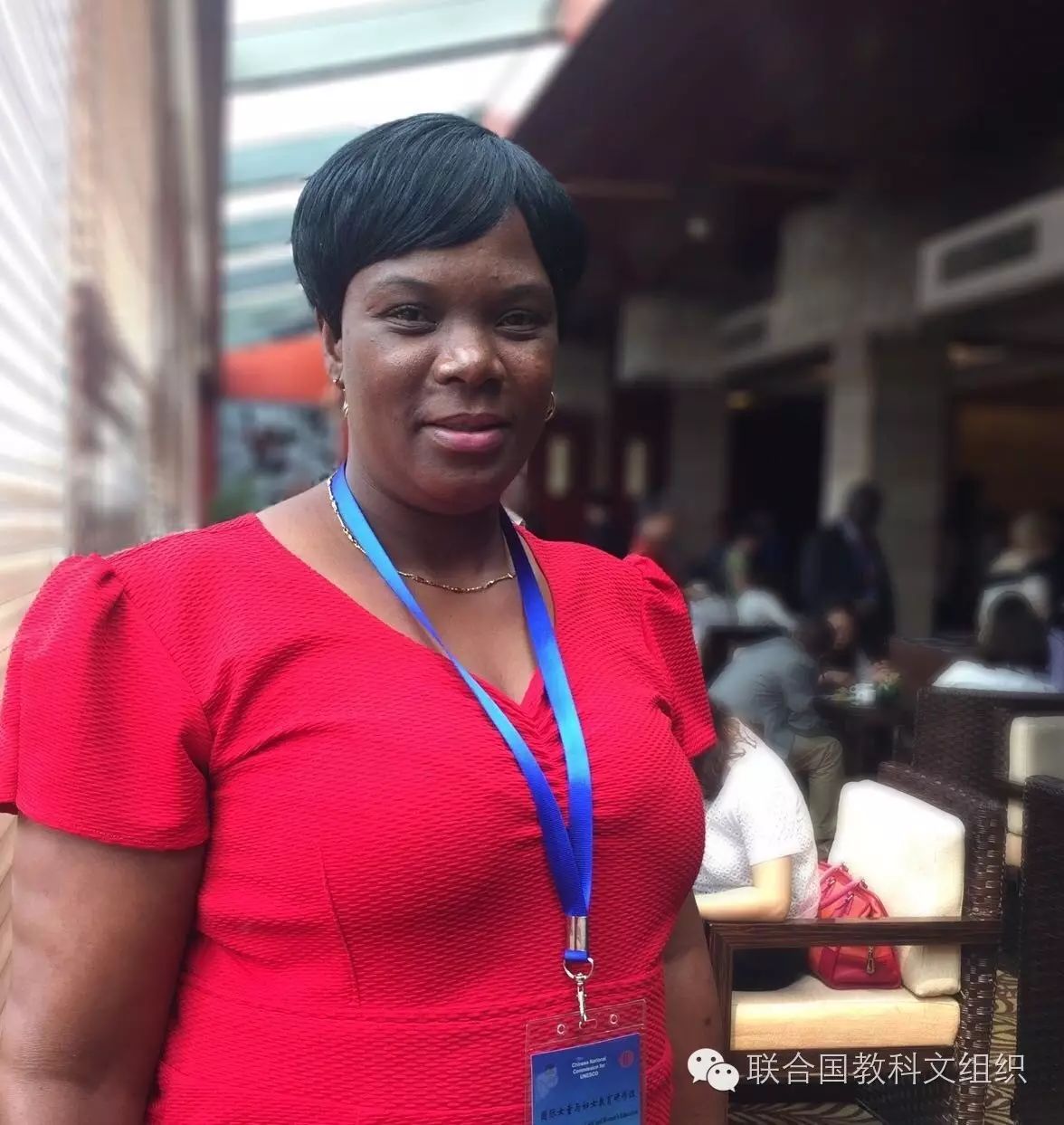 Ms. Evernice Munando, Director of Female Students Network Trust, Harare, Zimbabwe.
Evernice Munando女士,津巴布韦哈拉雷女生网络信托基金主任
Zimbabwe has taken a long way in advocating for a more favorable environment for girls and women. In the traditional and strongly culturally affected environment, girls and women are believed to be of less capability than their male peers by nature. It has been believed that male students should be given more preferences. This is the most fundamental challenge that we have to face, and is exactly where we want to make changes. We were given $50,000 for the UNESCO Prize for Girls' and Women's Education. With this ever big amount, we are sure that we can make a difference in Zimbabwe by carrying out effective ways to empower girls and women. With the money we plan to organize a series of campaigns on sexual harassment. The award will also help us to continuously work in the formulation of policies in favor of girls and women's rights. To empower girls and women we need to reach out more stakeholders in the country such as institutions, Ministry of Home Affairs, Ministry of Education so and so, to improve legislation and to advocate on girls' and women's equal rights in various social spheres including education. Another mission that we are to fulfill is to increase the accountability and credibility of authorities and organizations. Zimbabwe has already made considerable progress including promulgating various policies to improve the status of girls and women. Now with the high profile of the Prize and the mandate given by UNESCO and China, I will go back to my country to work for the improvement of the execution of what was already on paper. We are now in the spotlight and people will be encouraged to deliver the best.
为建设一个对女童和妇女更好的社会环境,津巴布韦已经走了很长的路。受到传统观念和文化影响,女童和妇女似乎天生就不如男性。大家认为男生就应该有更多的优先权。这是我们工作中面对的最大的挑战,也正是我们想要改变的现状。获得联合国教科文组织女童和妇女教育奖,我们得到了5万美元的奖金。通过利用这笔可观的经费开展有效的帮助女童和妇女的活动,我们相信我们可以使津巴布韦有更多更好的变化。利用这笔资金,我们将组织一系列针对性骚扰的活动,并将继续推进有利于女童和妇女权利的立法工作。要改善女童和妇女的情况,就要去发动国内更多的利益相关者,例如研究机构、、,才能在包括教育在内的各个社会层面更好的推进女童和妇女平等权利的立法和宣传。我们计划的另一个任务是加强当局和社会组织的可靠度。津巴布韦已经颁布了多条改善女童和妇女状况的政策,现在得了教科文和中国支持的这个奖,以及收获了这个奖带来的众多关注,我将回到我的国家,去进一步把纸面上的政策推动落实到实际行动上来。现在我们在聚光灯下,这会使大家更有动力去把工作做得更好。
Ms. Ella Yulaelawati, Director of Early Childhood Education Development, Ministry of Education and Culture, Republic of Indonesia
Ella Yulaelawati女士,
The Prize is a meaningful and powerful intervention to the gender equality in education in Indonesia, especially to wake up people who had never think about this. Less learning opportunities for girls and women is one of the causes to bring them unsustainable development in future. The empowerment of girls and women is not something that only benefits the female population, but also plays a fundamental positive influence to everyone, and brings in development to all spheres in society. Taking the opportunity of being awarded the Prize supported by the Chinese Government and UNESCO, I hope we can stimulate a momentum to improve the learning opportunities to all girls and women including those who are out-of-school or working at home. This is just the right time for everyone to stand up. Beside the traditional idea that it is women's destiny to being disadvantaged, we face another challenge in Indonesia of the frequent changing of the top authorities, which requires constant awareness risings for the top leaders to advocate among them the sense of gender sensitivity. With the award, we plan to develop training and learning materials to reduce the gender gap in education. One of the ideas is to build up toy libraries for poor families with which to reach out to poor, rural marginalized populations to create a better environment without gender bias. We also call for a bigger role of media to raise awareness among the public for the rights of girls and women to better education.
 获得这个奖,对印度尼西亚推进教育中的性别公平是一个意义深远的、有力的促进,尤其将唤醒那些从没有想过这方面问题的人的意识。女童和妇女缺乏教育机会,是她们未来难以持续发展的重要原因之一。发展女童和妇女不只是让女性人群受益,其实能给所有人带来深刻的、有益的影响,也会对社会发展的方方面面带来改善。,我希望我们可以藉此机会保持这样一种势头,继续改善所有女童和妇女的教育机会,包括那些失学或在家工作的女性。借此东风,每个人都该站出来了。除了传统观念上认为弱势就是女性的天命,在印尼我们还面临一个问题,。这使得我们需要不断地面对政府高层宣传性别敏感性。我们计划使用奖金开发一些用来弥合教育中的性别差距的教学材料。其中一个想法就是建设"玩具图书馆",让贫困家庭、农村边缘化家庭可以享受到没有性别歧视的更好的环境。我们也希望媒体可以发挥更大的力量,让公众认识到女童和妇女应享有获得更好的教育机会的权利。